About Garry Calvin Contracting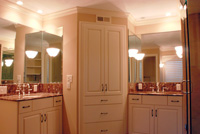 The idea to start our small home contracting firm in Kansas City stems from hearing countless stories about home remodeling efforts gone awry. The way we figure it, if you're paying good money to make your home better for your family, you shouldn't be penalized for it.
So while a lot of home contractors and home remodelers eventually get the job done, at Garry Calvin Contracting we strive to get it done right the first time so you don't have to pay for it later.
Garry Calvin Contracting has provided its home remodeling, kitchen remodeling, bathroom remodeling, room addition and design services to patrons all over the Fairway, Kansas and Kansas City areas for over 30 years because we wanted to give them a better remodeling experience, one that they can enjoy.

Our focus on building personal, lasting relationships with each of our clients makes us unique to an industry that has a bad reputation of being in it only for the money. At Garry Calvin Contracting we do what we do so families can have a home that they love and feel fortunate to live in.
It's exciting to get your home remodeled, and we strive to keep it that way as long as we're on the job.
Contact Information
Garry Calvin Contracting, LLC
5910 Reinhardt Drive
Fairway, Kansas 66205

Mobile: (816) 985-8923
Fax: (816) 482-3788
Email: garry@garrycalvincontracting.com